Clear + Brilliant®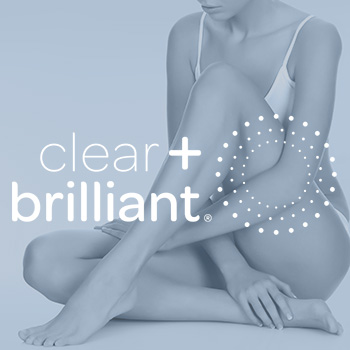 Clear + Brilliant® Laser can be the perfect skin care treatment to add to your routine. A safe, non-surgical, and non-invasive procedure, this laser revolutionizes the fight against the natural effects of aging by helping to improve the skin's tone, texture and reduce pore size appearance. Our skin care providers will choose the appropriate settings to get your desired treatment outcome. This 30 minute treatment helps improve and maintain healthy looking skin. It will feel smoother, look younger and give you a radiant glow.
---
No Surgery or Injections
Invasive, with no cutting and no needles. It can also be used to complement other procedures*
A Customizable Treatment
With two treatment options, you can customize your session to get your desired treatment outcome for your face, chest, or hands.
Quick and Effective
One 30 to 45 minute treatment session can leave your skin feeling smoother, younger-looking, and give you that "radiant glow."
Minimal Downtime
Treatments are quick and gentle with little to no downtime, so you can get back to your life.
Noticeable Results
Routine treatments deliver noticeable results that keep others guessing your secret.
• In fact, 100% of patients surveyed noticed some improvements after just one Clear + Brilliant® Complete Treatment.**

*At the discretion of the treating physician | **In a study of 32 adults that received Clear + Brilliant® Complete Treatment
---
TAKE A LOOK AT OUR BEFORE & AFTER PHOTO GALLERY TO SEE RESULTS FOR YOURSELF
---
What To Expect
The Clear + Brilliant® Complete Treatment is a gentle laser procedure backed by advanced technology. A Typical Clear + Brilliant® Treatment Includes:
• Requires about 30 to 45 minutes for a session, which includes time for prep and consultation
• May involve application of topical numbing cream to your face prior to treatment in order to provide additional comfort
• Some patients surveyed were able to apply makeup more smoothly following their treatment*
• There's little to no downtime after your treatment. You can get back to your routine the same day. Ask your provider to treat to complete
*Based on a survey of 32 patients who received a Clear + Brilliant Complete treatment