SkinPen® | Microneedling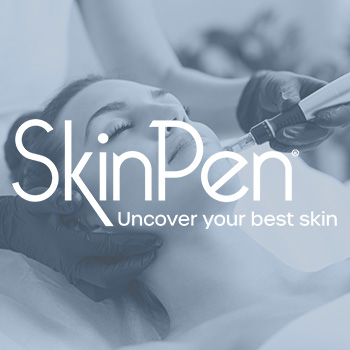 Bring Our Your Inner Beauty
The SkinPen device is the first and only FDA-cleared device used for microneedling (a.k.a. collagen induction therapy), a treatment that activates your body's natural collagen and elastin production process by creating a series of microscopic openings along your skin's surface. You may hear these openings called "micro-injuries," but they are harmless—this process simply triggers your body to increase the production of collagen and elastin, gradually thickening and smoothing the skin.

Microneedling with PRP™ improves firmness, reduces visible pore size, levels out deep acne scars, and leaves you with smooth, unblemished skin. Platelet-rich plasma (PRP) is a preparation made by drawing a small amount of your own blood from your arm, similar to what you would expect at a routine checkup. It is extracted by spinning the blood sample in a centrifuge to separate the PRP, a gold liquid, which floats to the top after the spinning process. This concentrate of PRP contains growth factors and proteins that promote healing and cell renewal in the body. Most patients can return to normal activities within 24 hours.
What You Can Expect
• Light Numbing | Topical anesthesia may be administered to assure maximum comfort during treatment
• Simply Treat | SkinPen Precision creates millions of controlled microchannels in the skin to elicit your body's natural sound healing cascade. This healing process works at the site of treatment to remodel the tissue resulting in new collagen and elastin, giving your skin a younger, firmer and radiant appearance.
• Post Treatment | Following your treatment your skin may appear slightly pink to red, similar to a mild sunburn. Results may appear after just one treatment, but will continue to improve three to size months following your last treatment.

We may recommend a series of procedures based on your individual goals. Maintenance of your procedure may require multiple treatments.
---
TAKE A LOOK AT OUR BEFORE & AFTER PHOTO GALLERY TO SEE RESULTS FOR YOURSELF
---