Neurotoxins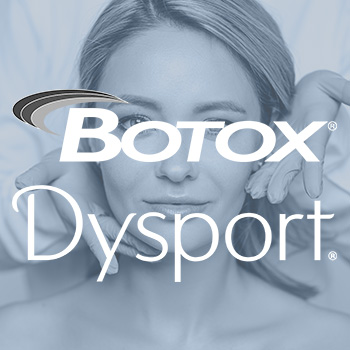 Injections to reduce dynamic wrinkles and lines made by facial expression
About BOTOX® Cosmetics
• The first and only treatment FDA approved to temporarily make moderate to severe frown lines, crow's feet, and forehead lines look better in adults.
• Treatment requires minimal downtime. You can return to your daily routine immediately after you leave your specialist's office.
• You may begin to notice results within 24 to 48 hours for moderate to severe frown lines.
• It delivers predictable, subtle results, so you look like you, only with less noticeable facial lines.
How BOTOX® Cosmetic Works
• A combination of factors can cause facial lines. It's not just about the cellular changes that may occur, or reduction of collagen, or damage caused by free radicals from the sun and the environment.
• Repeated muscle contractions from frowning, squinting, or raising eyebrows cause skin to furrow and fold, gradually resulting in the formation of facial lines. BOTOX® Cosmetic works beneath the surface and temporarily reduces the underlying muscle activity that causes moderate to severe frown lines, crow's feet and forehead lines in adults – to help them look better.
---
TAKE A LOOK AT OUR BEFORE & AFTER PHOTO GALLERY TO SEE RESULTS FOR YOURSELF
---
About Dysport® Cosmetic
Dysport is a convenient way to feel a beautiful boost, but not a total transformation. With 95% of users* satisfied with only 2 treatments per year and 97% of users* agreeing that the treatment looked natural. Dysport delivers noticeable results in as little as 24 hours after treatment, with results typically appearing within 2-3 days.
Fast-acting, long-lasting treatment
Dysport® works by smoothing out wrinkles, which are caused by repeated movements and muscle contractions. One injection into each of the 5 points between and above the eyebrows temporarily prevents muscle contractions that cause frown lines. In other words: natural-looking results that look and feel like you.
Just one 10-20–minute treatment may help improve the look of the frown lines between your eyebrows for up to 5 months. Results of repeat treatments may be comparable to your first treatment. Another plus? There's minimal downtime after your treatment, which means you can get back to your day faster.
---